Many a time one wonders why the most special moment in a person's life is always the most tiresome. How often have you dreamt of a wedding that was completely unique but would be memorable indeed?
January 26, 2017. While the whole country remained awestruck by the colourful displays during the Republic Day parade in New Delhi, two people and a team from Bond Safari, Thiruvananthapuram were busy preparing for a moment that would change their lives.
Meet Nikhil and Eunika, a couple who exemplifies the true meaning of the phrase "out-of-the-box." Yes, their wedding, which had taken place on Thursday (January 26, 2017) was a sensation. Moreover, this was perhaps the first wedding where even sea-urchins were considered to be the most honoured guests! Confused?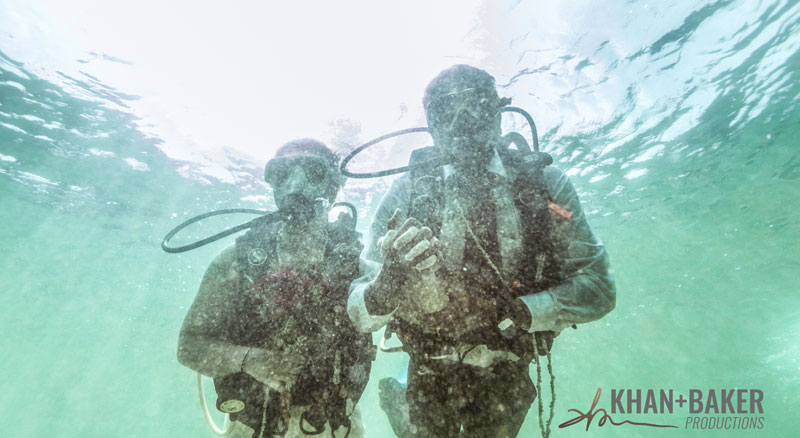 Don't worry. This was a desire that the adventurous couple wanted to fulfill ever since they agreed to tie the knot. Nikhil Pawar, a native of Navi Mumbai, Maharashtra is a PADI (acronym for Professional Association of Diving Instructors) certified diver currently working at Bond Safari, a diving centre based out of Thiruvananthapuram in Kerala. It was approximately seven months ago, when Nikhil had first met his partner-for-life Eunika Pogran. Eunika, 23, hails from Slovakia and is a political science graduate from the University of Bratislava, Slovakia. They "bumped heads" in July 2016, when Eunika was taking a vacation in Thiruvananthapuram.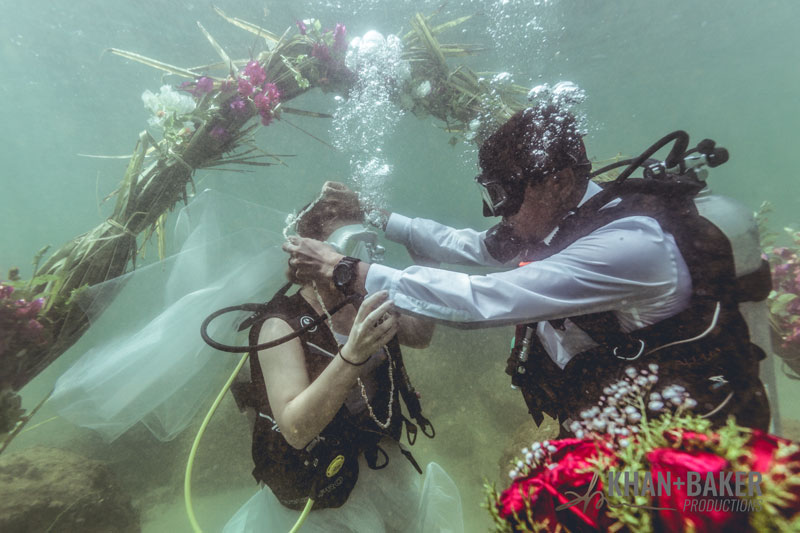 On Thursday, the couple decided to gear up for the moment of a lifetime. Eunika, dressed in a white elegant gown and Nikhil, adorning a pair of western formals, entered into a wedlock the scuba diving way.
As they wore their safety gear and signaled 'Okay,' the team of divers from Bond Safari escorted them into the ocean. A few minutes later, the story had a new dimension. Those on the shore remained curious, while the couple had a most quaint yet special moment together.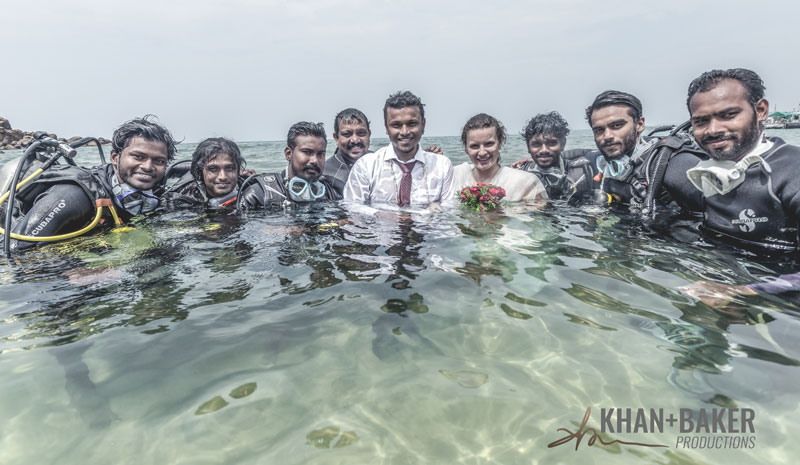 Nikhil and Eunika escorted into the ocean by the team of divers from Bond Safari, Thiruvananthapuram
From voices to placards; from vows to swimming along with the aquatic world, this wedding was definitely one of a kind!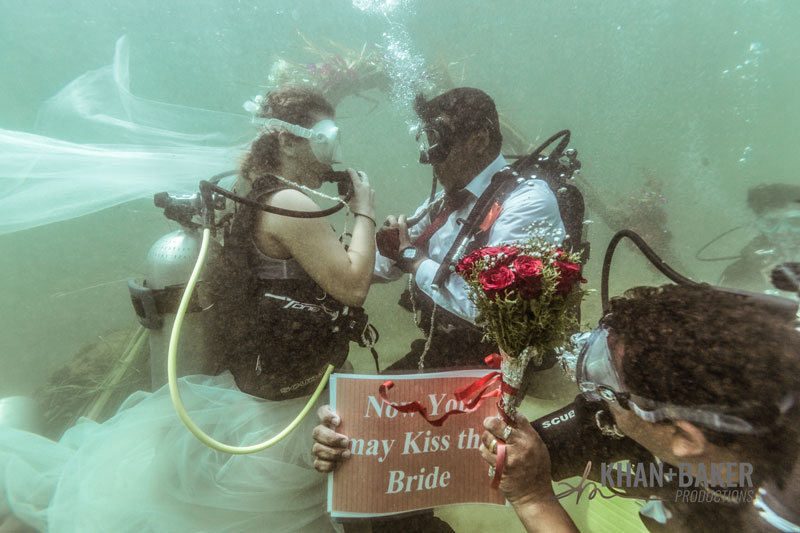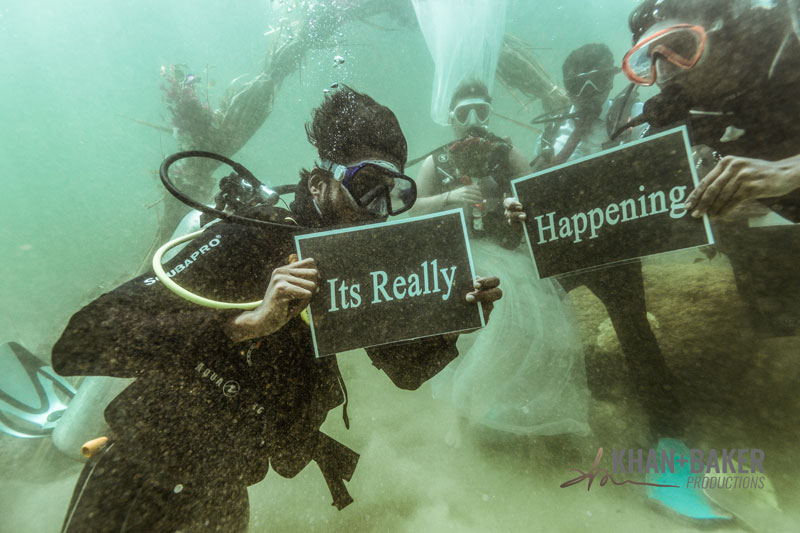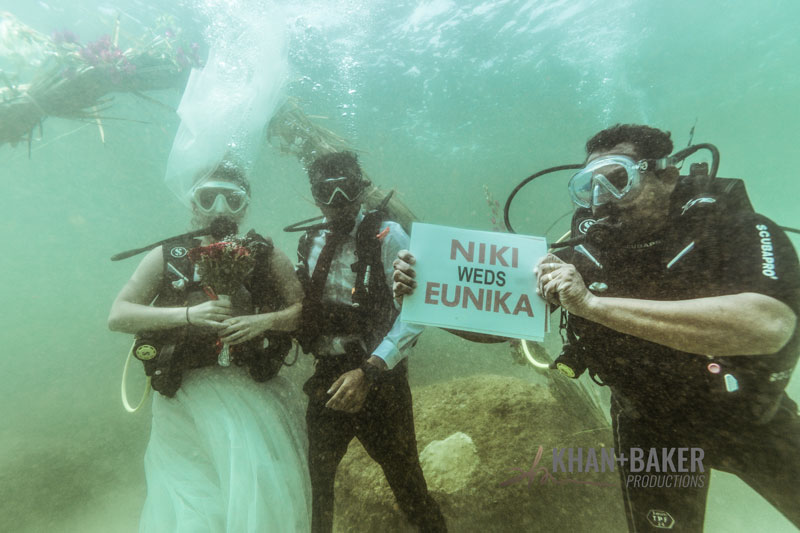 Nikhil and Eunika swam back to shore upon the completion of the ceremony. While the couple did hope for a more private event, their most cherished day has become the talk of the town!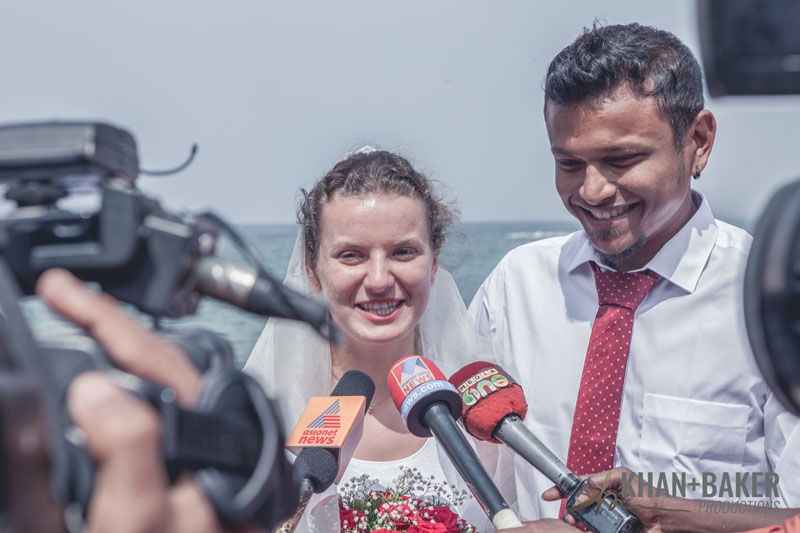 Well, it's not every day that you get to celebrate and get married differently? Here's wishing the 28-year-old diving instructor and his lady-love many happy years together.
http://www.theindia.co.in/blog/kerala-kovalam-beach-under-water-wedding-291